The AN/FSQ-7 on TV and in the Movies
The USAF AN/FSQ-7 (SAGE) computer systems were the largest computers ever built, and were responsible for keeping a radar eye on our air space for more than 25 years until decommissioned in 1983. The Q7 was also a special effects dream, with more lights, switches and vacuum tubes than any other piece of hardware, and found its way into many science fiction movies and television programs over the years.
I served in the US Air Force from 1982 until 1986, and was in one of the last groups of computer maintenance technicians trained to work on the Q7. I was stationed at McChord AFB in Tacoma, WA, and worked on the Q7 there from January through August of 1983, before heading back to school for training on the newer (ROCC) system. McChord's Q7 was finally turned off in August of 1983.
I've been a science fiction fan ever since I could read, and have always been fascinated by robots and computers, the more lights and switches the better. I used to watch Irwin Allen's Time Tunnel series, and finally realized after I left the Air Force that the computer system in the tunnel complex was comprised of sections of the old AN/FSQ-7! After that, I started to look for the Q7 in other movies and TV programs. I've collected some pictures from various web sites as well as video captures from my own collection, and posted them here. Enjoy!
If you know of any other movies or TV programs which used parts of the Q7 for props, please let me know. Screen grabs or publicity shots would be very helpful.

---
Appearances by Decade
Site Updates as of April 29, 2023
---
Where are they now?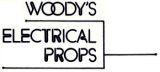 So, what became of all the SAGE hardware? It's hard to track down, but I've managed to trace some of it. A prop house called Vectrex Corporation in Santa Monica owned some large sections, but is no longer in business and the hardware was sold off. However, the large SAGE consoles seen in recent years are owned by Woody's Electrical Props in North Hollywood, CA. I talked with Woody about his equipment and its history.
---
Other SAGE Links
---
Last updated on Saturday, April 29, 2023