The SAGE equipment used in The Time Tunnel and the rest of Irwin Allen's productions was originally owned by 20th Century Fox, and was purchased by the studio from the Air Force sometime prior to 1966. In 1982, the remaining sections of the Duplex Maintenance Console and Simplex Maintenance Console were purchased by Thomas (Woody) Wood, for use in his prop rental business in North Hollywood, CA. Woody worked at Fox in 1966 and for years afterward, and filled in some of the SAGE prop story for me.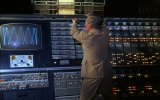 Woody told me about rewiring the SAGE equipment, removing large amounts of wire and replacing the neon indicator lamps with 28V incandescent lamps. To create the flashing sequences, motorized rotary switches were used. According to Woody, the rotary switches were installed in insulated boxes inside the SAGE cabinets, to cut down on the noise. Other lamps, not originally neons, were made to flash by replacing them with #455 6.3V flasher lamps. He was also responsible for building the monitor into the SAGE equipment which displayed the rotating Lissajous figures. Immediately beneath the monitor was a signal generator panel, an Eico 377. According to Woody, there was another source inside the console to create the second waveform necessary to create the pattern.
Woody's prop house, Woody's Electrical Props has owned the last large sections of the Fox SAGE equipment since 1982, and has been renting them out ever since. He has 4 large slanted panels plus 7 Burroughs B205 tape drives, essentially the same equipment used in The Time Tunnel. His business provided the SAGE equipment for 7 Days, Austin Powers: The Spy Who Shagged Me, Austin Powers: Goldmember and Lost (and probably more). They also worked on the van for E.T., the command center for War Games and built the consoles for Mission Control in Apollo 13. Woody mentioned that Jim Lovell said, on seeing the Mission Control set, that "it was just like being there". The consoles were so detailed that they even had the right labels on them. Another claim to fame for Woody is the clock on the spaceship Icarus, from the original Planet of the Apes, which showed Ship Time and Earth Time.
These pictures were borrowed from Woody's inventory pages, and show his remaining SAGE equipment.
---
This next batch of photos are from a visit to Woody's shop, on Tuesday, April 29, 2008.
I also visited Woody's shop in August of 2008, and took a lot more pictures, and a video of the panels in action. Go here for the lot.
---
Return to the Q7 page.

Last updated on Monday, July 21, 2014