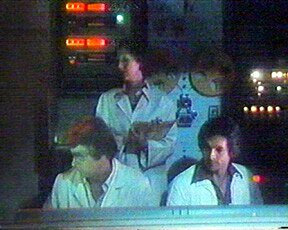 From Gene Wickham:
"Alien (Later called Alien Probe) was the advance 25-minute film project for the Cinema Department at Los Angeles Valley College during the fall semester in 1977. It was the first film I directed and I patterned the film after an outer limits type of format.
Plot: A research scientist under pressure from his research facility's director finds an object out in the wilderness and brings it back to investigate it.
The project was a real challenge and I found myself constantly trying to fix story and technical problems. I was fortunate enough to have an instructor and student crew who were motivated enough to help me find resources.
Towards the middle of the story, a scene was developed which involved a research lab set. The cinema department at Valley College was in a building with a soundstage/classroom, a sound room and a back room with all the film editing equipment. We decided to use the sound room as the research lab set. It already had a few lighted panels from the sound dubbers but we needed more. Either my instructor or one of the film crew hooked me up with a prop company in Santa Monica, California called Vectrex. They were very helpful and gave us a number of light panels to use for free in my film. The props were operational and we just had to mount them in place and plug them in. I don't recall anyone doing any heavy-duty wiring."
---
To the left of the female researcher are two power control panels from the Q7.
---
Return to the 1970s page.
Return to the Q7 page.

Last updated on Monday, July 21, 2014