Flexible Disks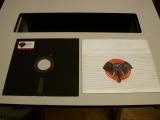 8" Soft Sectored Diskette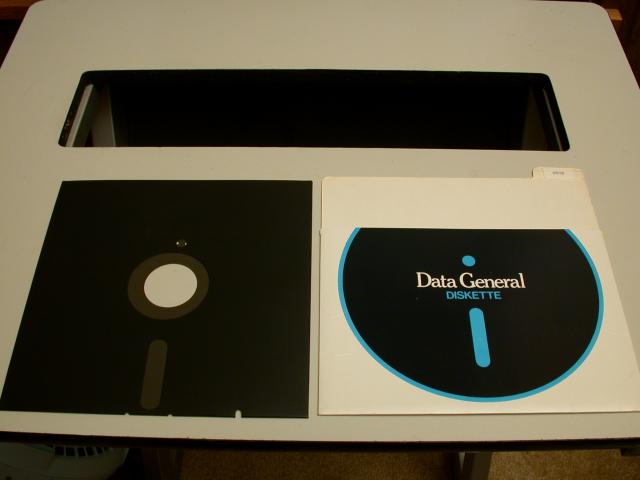 8" Hard Sectored Diskette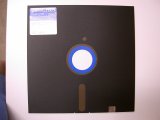 8" Single-sided Diskette
8" diskettes. Elephant brand DSDD soft sectored diskette, and a Data General hard sectored diskette. The hard sectored diskette has an index hole for each sector on the track, while the soft sectored diskette has a single index hole. 8" diskettes have a write-enable notch, which must be covered in order to write to the diskette. The index hole on double-sided diskettes is displaced farther to the right than on single-sided diskettes. Capacity for 8" diskettes varied between systems, but was typically 500KB and 1MB for double density, single and double sided.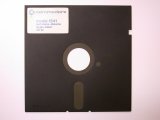 5-1/4" Single-sided Diskette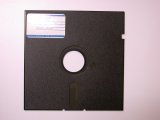 5-1/4" Double-sided Diskette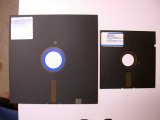 8" and 5-1/4" Comparison
5-1/4" diskettes, double-density, single and double-sided. These diskettes have a write-protect notch, which is covered to prevent writing to the diskette. Single and double-density diskettes tend to have a center reinforcement ring, while high-density (1.2MB) diskettes usually do not. Single-sided, double-density diskettes typically held around 180KB while double-sided held 360KB, depending on the formatting.
---

3-1/2" 720KB Diskette

3-1/2" 1.44MB Diskette
3-1/2" diskettes, double-sided. The 720KB diskettes have a single write-protect hole, which is covered to allow writing. The 1.44MB diskettes have a second hole on the other side to indicate their higher capacity to the drive.
---
Return to the Storage Media page.
Return to the Old Technology Collection page.

Last updated on Tuesday, July 22, 2014